Owners Morgan and Dan Connor worked with designer Laura Yeager Smith to make their new home shine with artistic charm.
Morgan and Dan Connor wanted to build a house that would complement the land it would sit on – 15 wooded acres at the edge of the Chagrin River valley.
"It's beautiful. There's a lot of character. There's a lot of charm," says Morgan, an advertising executive turned stay-at-home mom. "So we wanted to incorporate some of that into the design of the outside."
She and her husband, a healthcare executive, opted for what she describes as a 5,700-square-foot "Modern Tudor," a clean-lined structure that retained the traditional stucco facade, dark woodwork and the steeply pitched roof. But the couple avoided the abundance of dark wood and heavy furniture typically found in such homes.
"We wanted to create a more modern take on those more traditional, older homes you see in this area," says Morgan.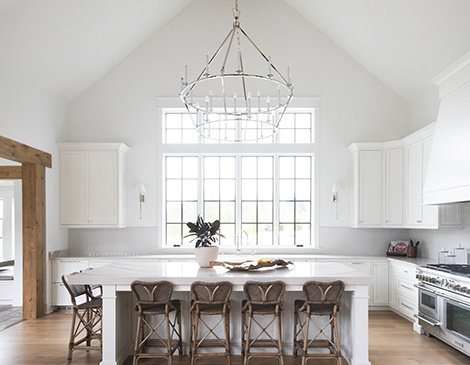 The Connors enlisted Laura Yeager Smith of Laura Yeager Smith Home & Design in Hudson to create interiors that combine classic Tudor elements with up-to-the-minute trends – interiors durable enough to withstand the antics of two golden retrievers and two children preschool. (At press time, the couple are expecting a third child.)
"We really wanted our home to meet us where we were in our lives," Morgan says.
Smith laid the groundwork for the light and bright spaces the couple wanted by covering them in custom stained oak and painting the walls white, a color
Morgan had already chosen a kitchen that opened up to the formal dining room and the great room.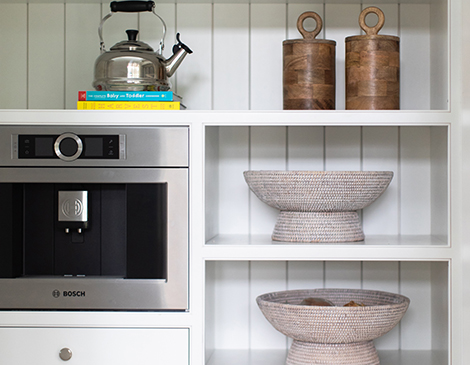 A disdain for clutter drove the design, going so far as to outfit the pantry with a built-in espresso machine and plate racks on a tongue-and-groove wall.
Tudor-esque touches include black-framed windows, pine used to frame the doors, and fashion
decorative trusses, stone flooring in the morning room, and a trio of oversized polished nickel chandeliers hanging in the kitchen.
"It really helped bring the vaulted ceilings down to a more human scale and draw your attention to those really nice architectural details, the decorative trusses that we added in the ceilings," Smith says.
Smith outfitted the public spaces with an eclectic mix of pieces. She and Morgan used their shared affinity for natural fibers and textural elements to inject organic warmth and interest into the decor.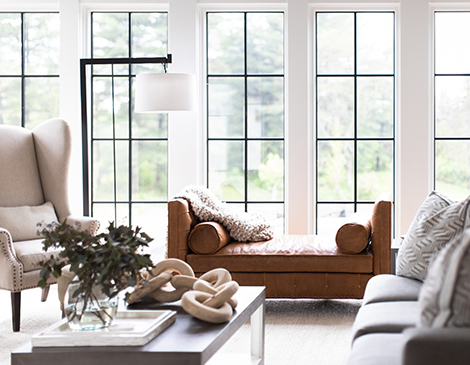 In the home's morning room, gray leather swivel chairs flank a sleek cylindrical wood-burning stove and brown leather cocktail ottoman, while chairs with woven rope backs provide additional seating at a maple table surrounded by on three sides by integrated benches.
"The seats are upholstered in an indoor-outdoor fabric, so kids and family can be comfortable but also clean the cushions," Smith points out.
In the great room, a sofa upholstered in durable stone performance fabric holds court in front of the stone fireplace with a caramel-colored leather daybed, whimsical linen-look wingback chair and ottoman skin, and a mid-century modern wood. frame chairs set by a concrete side table, all set on a bleached jute rug. An ash casement piece with woven raffia door inserts divides the great room and formal dining room.
"It doubles as a sofa table and a sideboard for storing dishes," says Smith.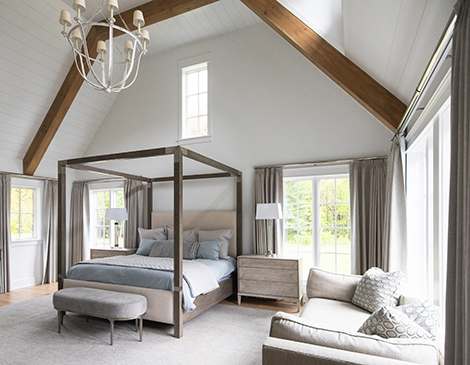 The great room bar features curved cabinets topped with black leather granite and punctuated by a hammered silver finish sink. Crystal drawer pulls and glass sconces add a bit of glamor to the room decor.
"We did a nice textured wallcovering to differentiate the space," says Smith. "It's a woven wallcovering, so it has gray and a little linen color and a little black in it."
The serene neutral decor continues into the owners' suite, where a king-size four-poster bed towers above a bedroom warmed by a marble fireplace and crowned by a vaulted tongue-and-groove ceiling. Smith created a spa-like retreat by installing a freestanding tub and large shower with a back wall featuring a marble mosaic pattern.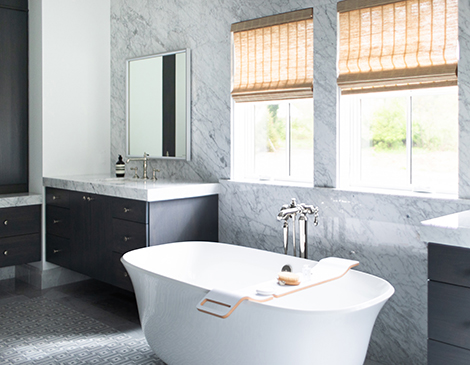 The year-old home has already acquired some century-old wear and tear from dogs and young children. Morgan fully welcomes their home to look and feel lived in.
"We didn't want it to look like a museum or to be treated like a museum," she explains. "We really live in our space. There really is no part that is untouched.
Get inspired by our 2022 house number with these decorating tips, local spotlights and more.