Don't be fooled by the weather-worn beams and sun-bleached stone walls, because this luxury lakefront home in Houston Oaks, TX isn't even two years old.
With a seamless blend of modern ranch style, Tuscan farmhouse ambiance and well-chosen antique elements, this new build is full of character with an inherited sense of history. The finishes are both luxurious and resistant. The style effortlessly and neatly put together. And the lakeside setting is breathtakingly beautiful. For all these reasons, it is one of the the best houses in the world. Shop around and prepare to be more than a little envious.
Behind every great house, there's a great team, and this weekend house is no exception. Interior decorator Kara Childress was responsible for interpreting her clients' wishes for a vacation property that would feel like an escape from their daily lives, working with Byer Custom Builders and Ryan Street Architects.
"They were looking close to their primary residence in Houston, but far enough away to feel like a destination," Kara says. "This home in Houston Oaks feels like a ranch property with all the amenities – golf, fishing, and horseback riding,"
The family of five wanted a forever home, Kara explained, one that was "able to accommodate the needs of adult children, knowing that their family will grow with future grandchildren." It also had to be habitable now as a weekend getaway, but have the ability to become a permanent residence later in life.
Modern rustic kitchen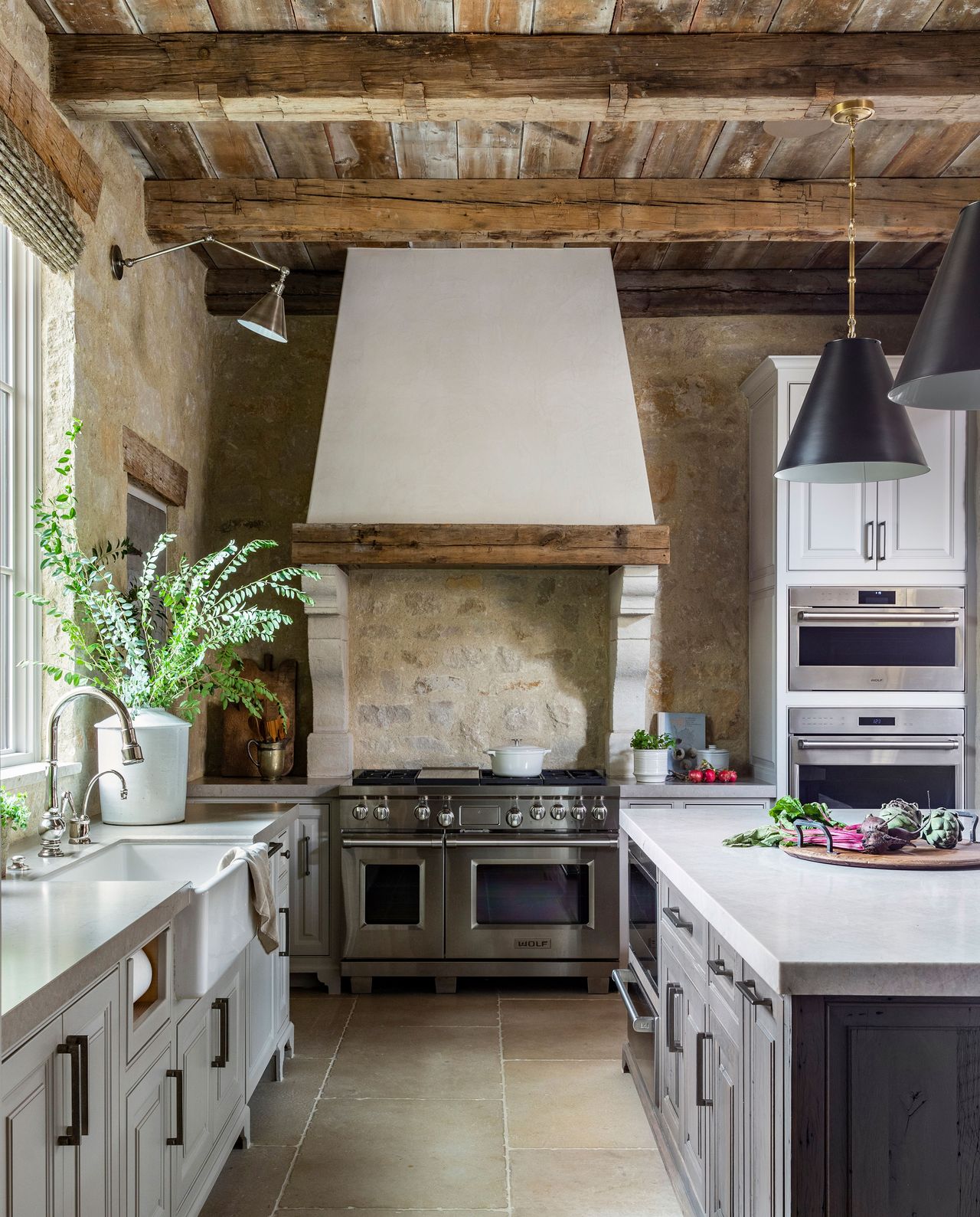 Early inspirations for the interior designs were modern ranch living ideas, says Kara Childress, "luxurious yet functional and authentic with modern conveniences and antique elements that give the home character and a timeless sense of place."
There is a lot of inspiration kitchen ideas here is worth copying, especially if you're looking for a modern farmhouse style.
The kitchen is truly the heart of the home and is the perfect blend of antiques and modern elements. "Reclaimed beams and an 18th-century European pantry door are integrated with the convenience of modern appliances and functional workstations that make entertaining effortless," says Kara. "The stone from the exterior wall is carried throughout the kitchen for added texture and warmth."
Task lighting and retractable seats make the space multifunctional. The pendant lights are from Circa Lighting and illuminate the Lee bar stools from James Craig Furniture. The leather countertop of Perla Venata quartzite island, sourced from Pomogranit-ADRand a limestone floor of Marketing of materials infuse an authentic feeling.
Double height dining room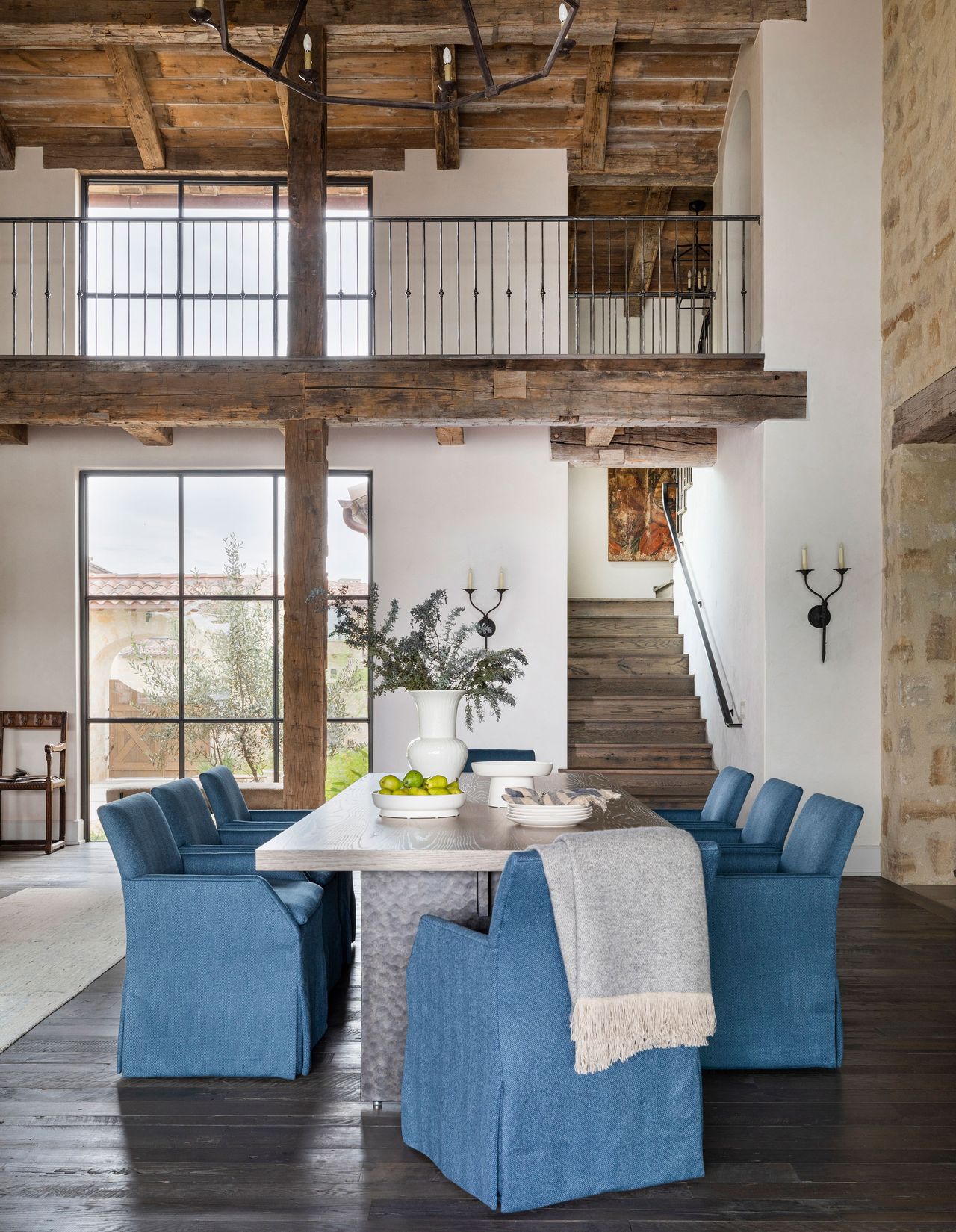 High ceilings and large expanses of steel framed windows give the dining room a luxurious spacious feel. dining room ideas here include the use of strong pieces to balance the impressive architecture. These include a Ralph Lauren Robertson two-tier chandelier from Visual comfort & Co, Lee chairsand a custom table of Robert James Collection in Chula Vista, California.
Quiet lounge area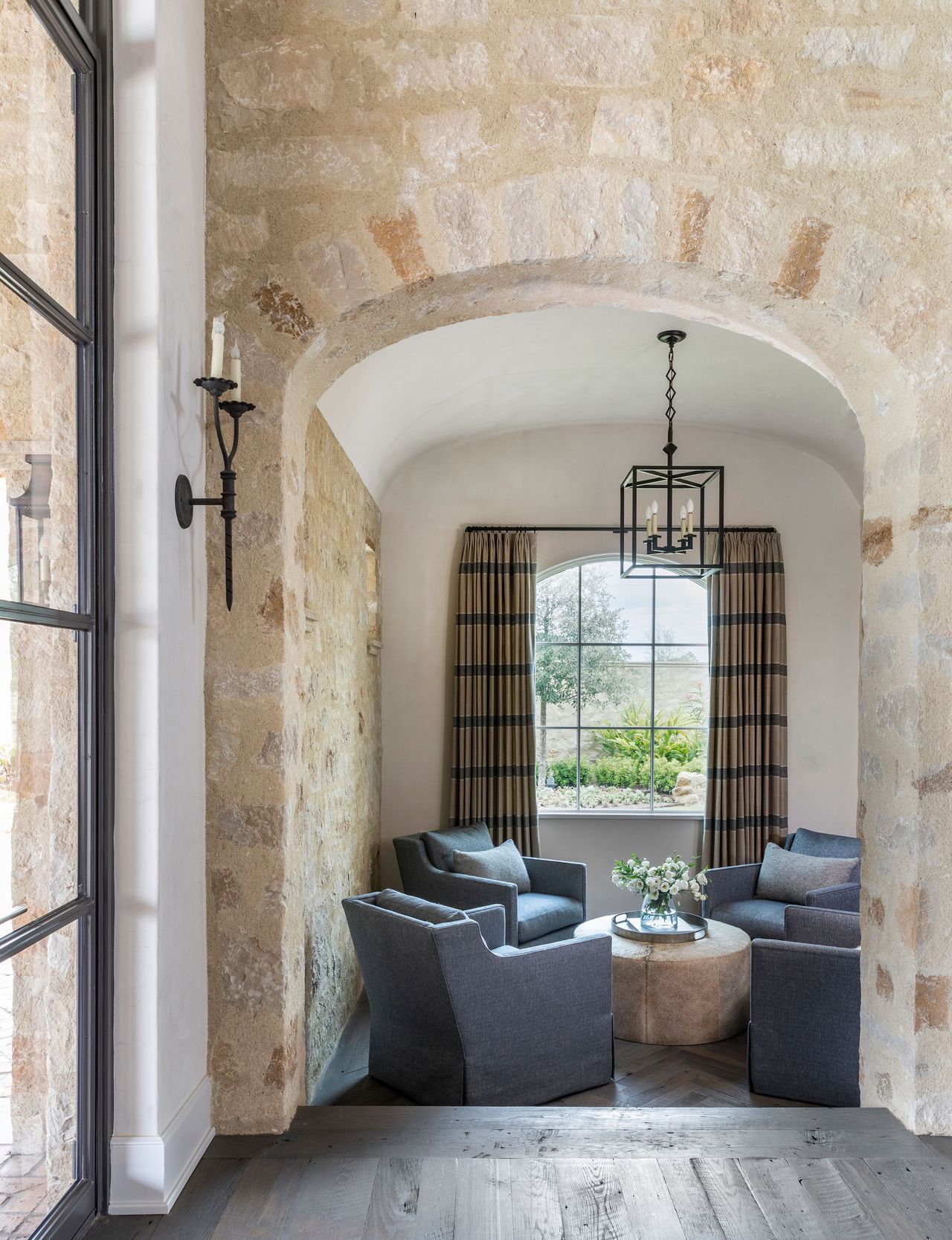 Descend two steps from the formal living room and you reach this comfortable and inviting TV viewing area. Swivel chairs allow everyone in the space an unobstructed view of the TV, although on this side of the arch there's no indication that the stylish spot is all about Netflix!
Splendor of the living room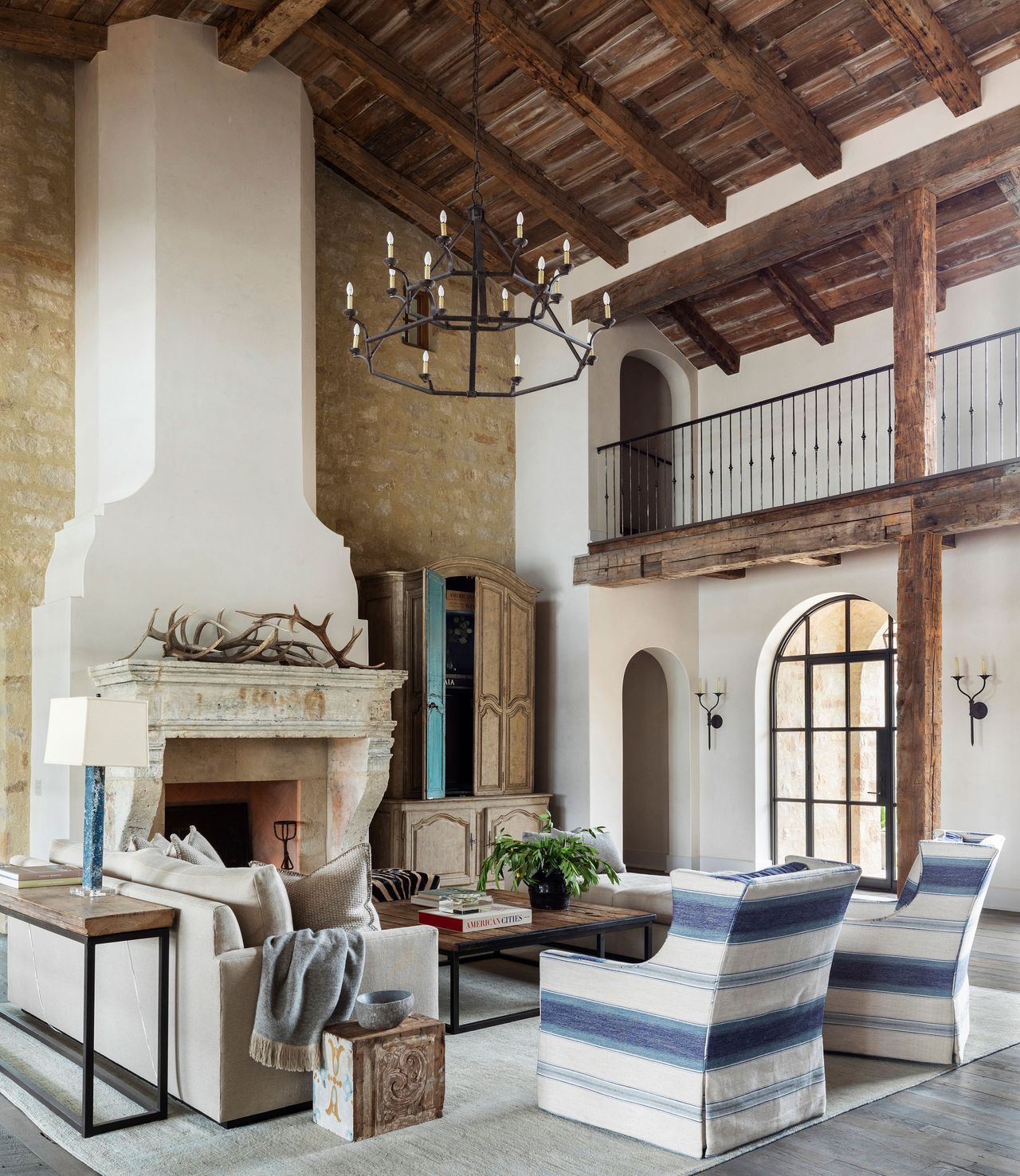 This piece is the perfect mix of new and old, and for those looking for living room ideas, it perfectly demonstrates how older pieces can be used to add character to a new build.
It's designer Kara Childress' favorite piece in the whole house. And she says, "We incorporated old building materials into this modern structure, as well as old furniture with the comfort of luxury upholstery. The piece that led this space architecturally was the 17th century salvaged stone mantle from the Champagne region of France. We didn't want to place the TV above the fireplace, which posed the problem of finding a tall, narrow cabinet that could conceal the TV while balancing the size and scale of the mantel.
In the end, Kara found the perfect solution. A charming 19th century armoire doubles as a large TV and games storage unit, which can be closed for more intimate family time or formal entertaining. The room is flanked by oversized steel and glass windows that flood the room with natural light.
Study and homework area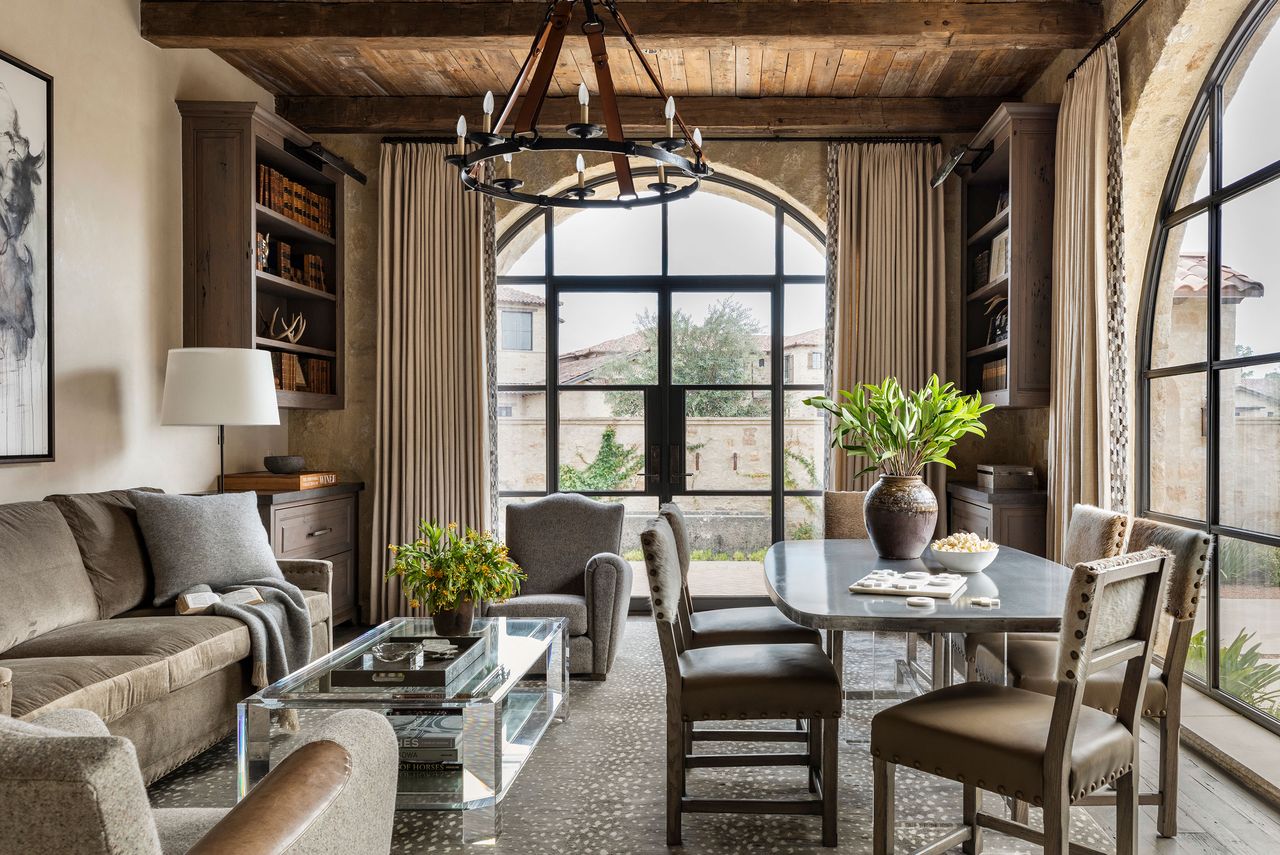 When owners asked for their vacation home to be flexible, ready to grow with the family and their changing needs, this space is exactly what they had in mind and it's full of home office ideas.
The multifunctional study serves as both a homework space for the children and a business meeting space for the adults. Large windows provide enough natural light needed to use an office, while metal doors provide a separate entrance for business meetings to avoid entering through the family home.
Table of Old Interiors; dining chairs and sofa, both Lee; low table, Interlude; club chairs, Verellen; carpet, Rigid; light fixture, Circa.
Outdoor kitchen and dining area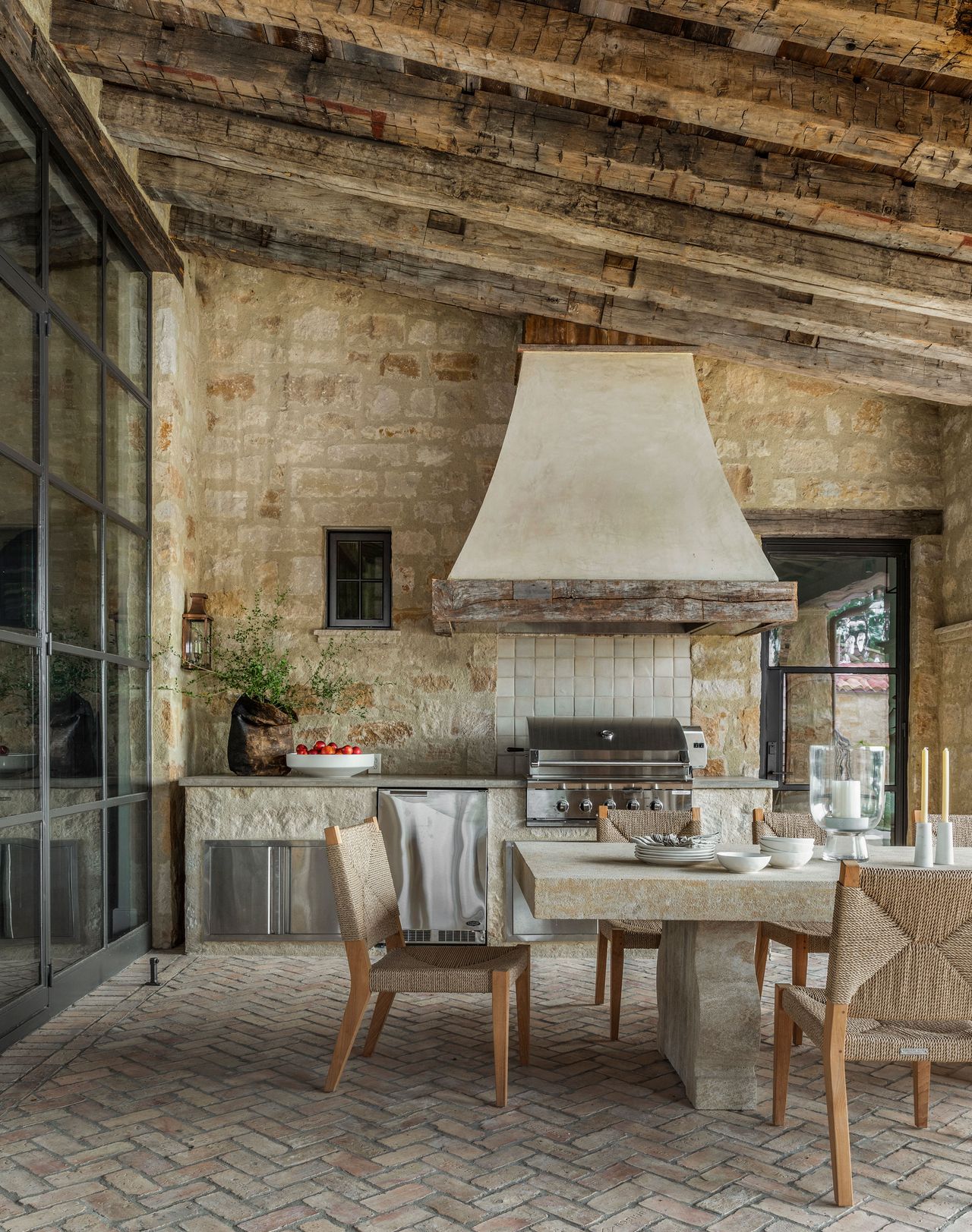 This covered outdoor kitchen and dining area serves many purposes – cooking, eating, watching football, lounging by the pool and fishing by the lake.
Perfect for entertaining against the backdrop of stunning lake views, the outdoor porch houses a custom table with quarry stone. Alamo Stone and Kingsley Bate chairs throughout Ladco.
'A Walker Zanger the tile backsplash and Chapman & Myers Bedford lantern by Circa Lighting in the cooking area complete the monochromatic palette," adds Kara.
The view from the outdoor kitchen…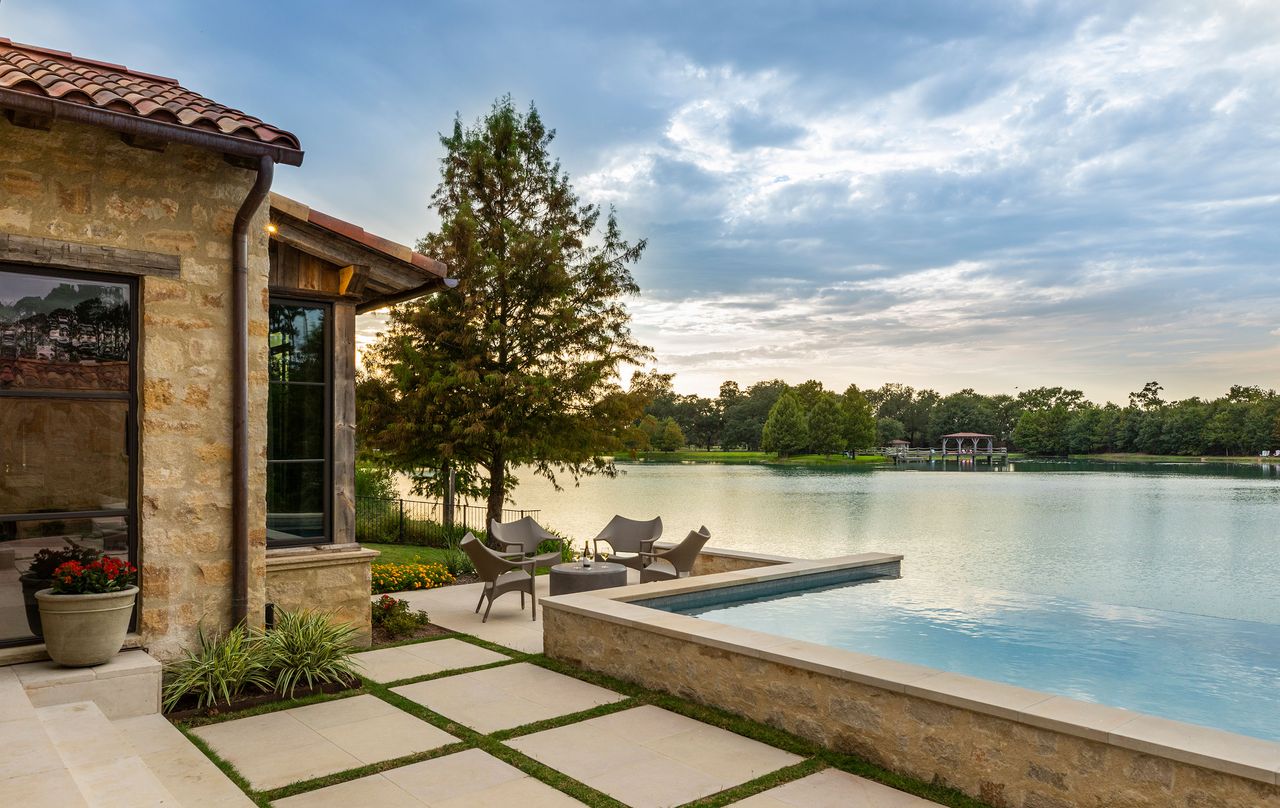 The owners wanted to be able to receive their family and friends in a generous space with a view of the private lake. Mission accomplished.
Bedroom – with that view again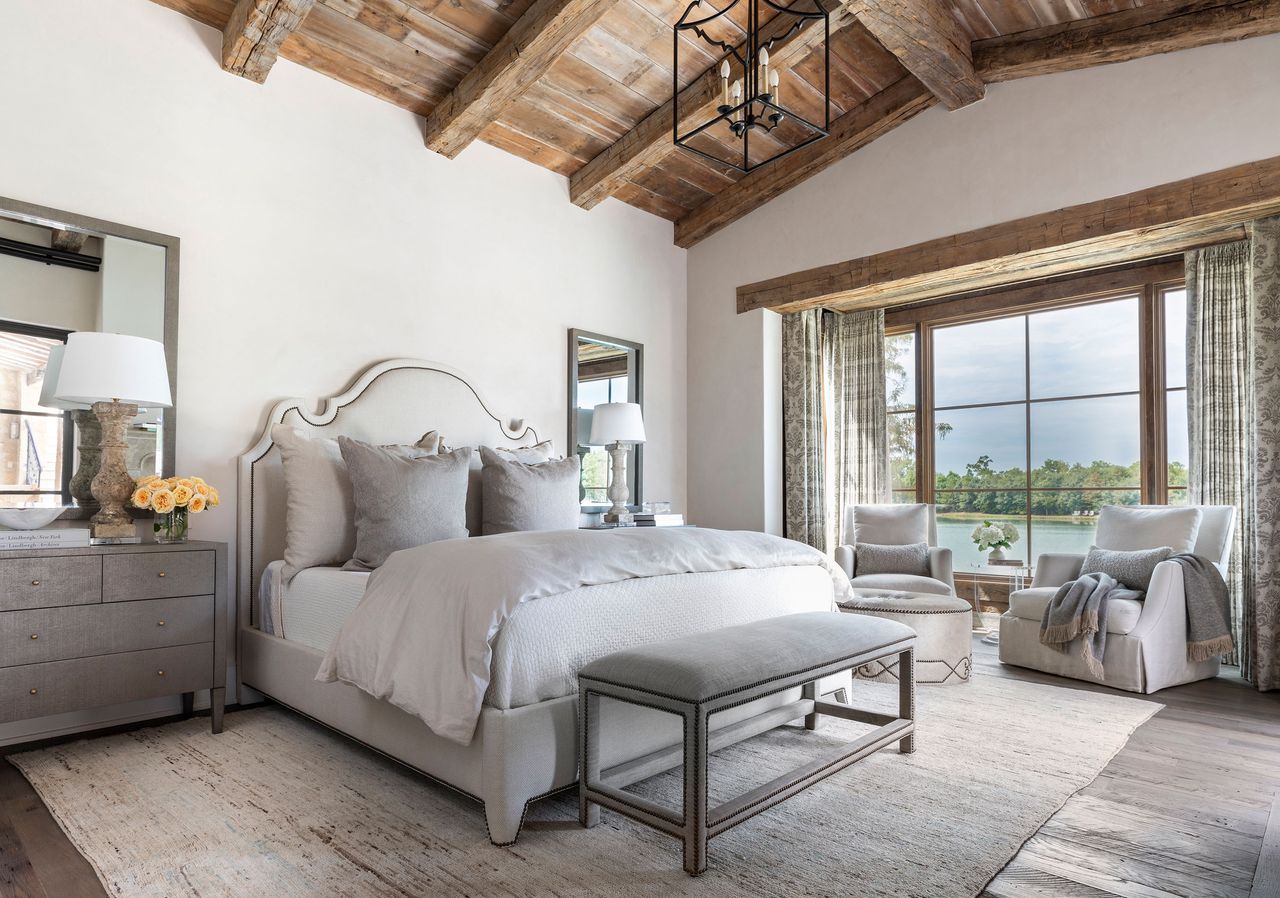 The owner's suite offers incredible lake views, as well as full access to the back porch and pool patio. With the wooden beams and exposed rafters, the room has an air of rustic, historic grandeur.
Bedroom with beams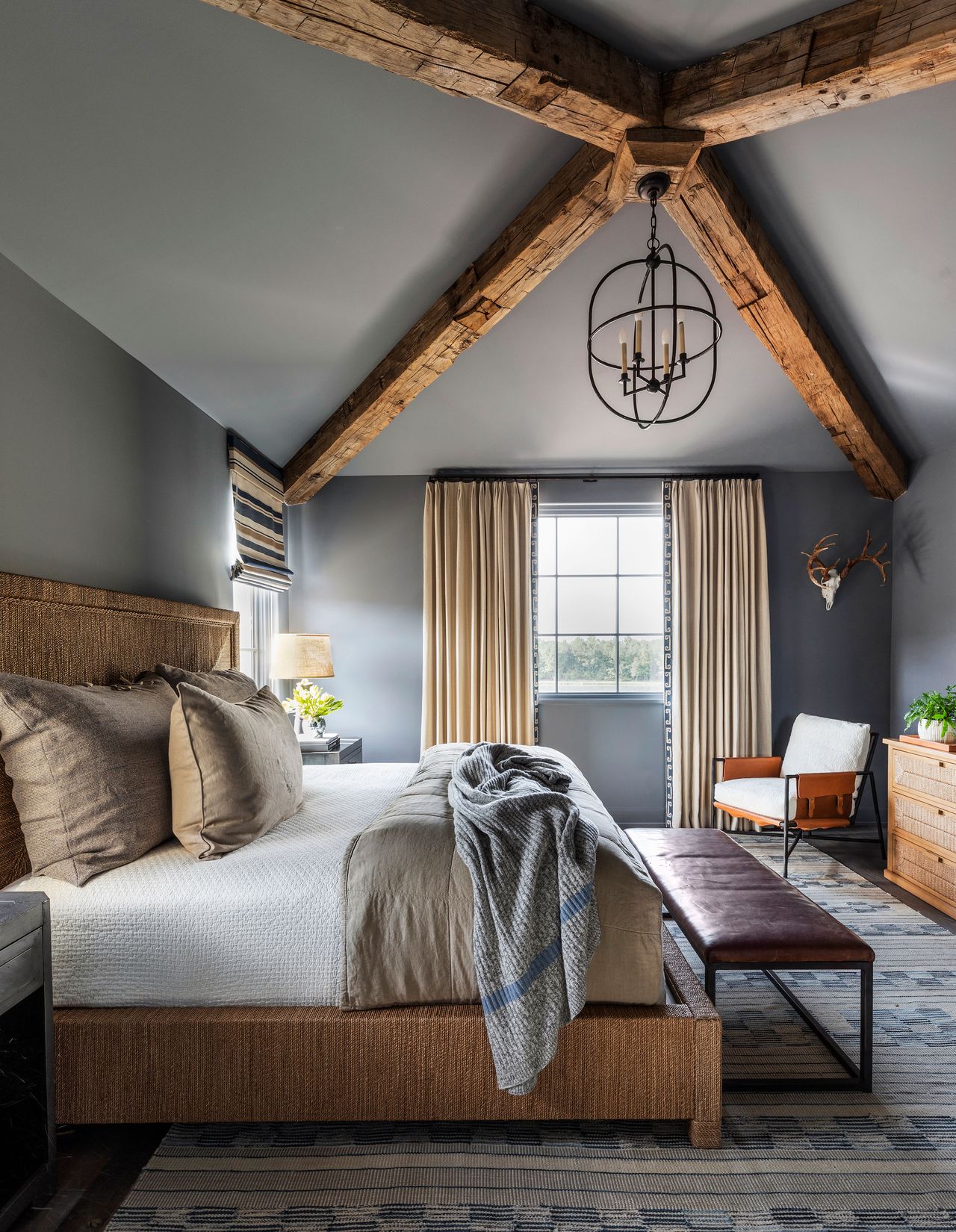 Gray might seem like an unusual color choice for a bedroom, but Kara knew it would work well for this boy's room and create a cozy space.
Other bedroom ideas worth mentioning – besides those impressive crossed ceiling beams – are the Desmond Open Oval Lantern by Visual comfort & Cowhich fills the space above the Palecek antique gym bed and bench from Schwung Home in High Point, North Carolina, and a vintage rug from Matt Camron Rugs and Tapestries. The walls and ceiling are painted in Sherwin-Williams's Downing slate shadow.
Bathroom in modern rustic style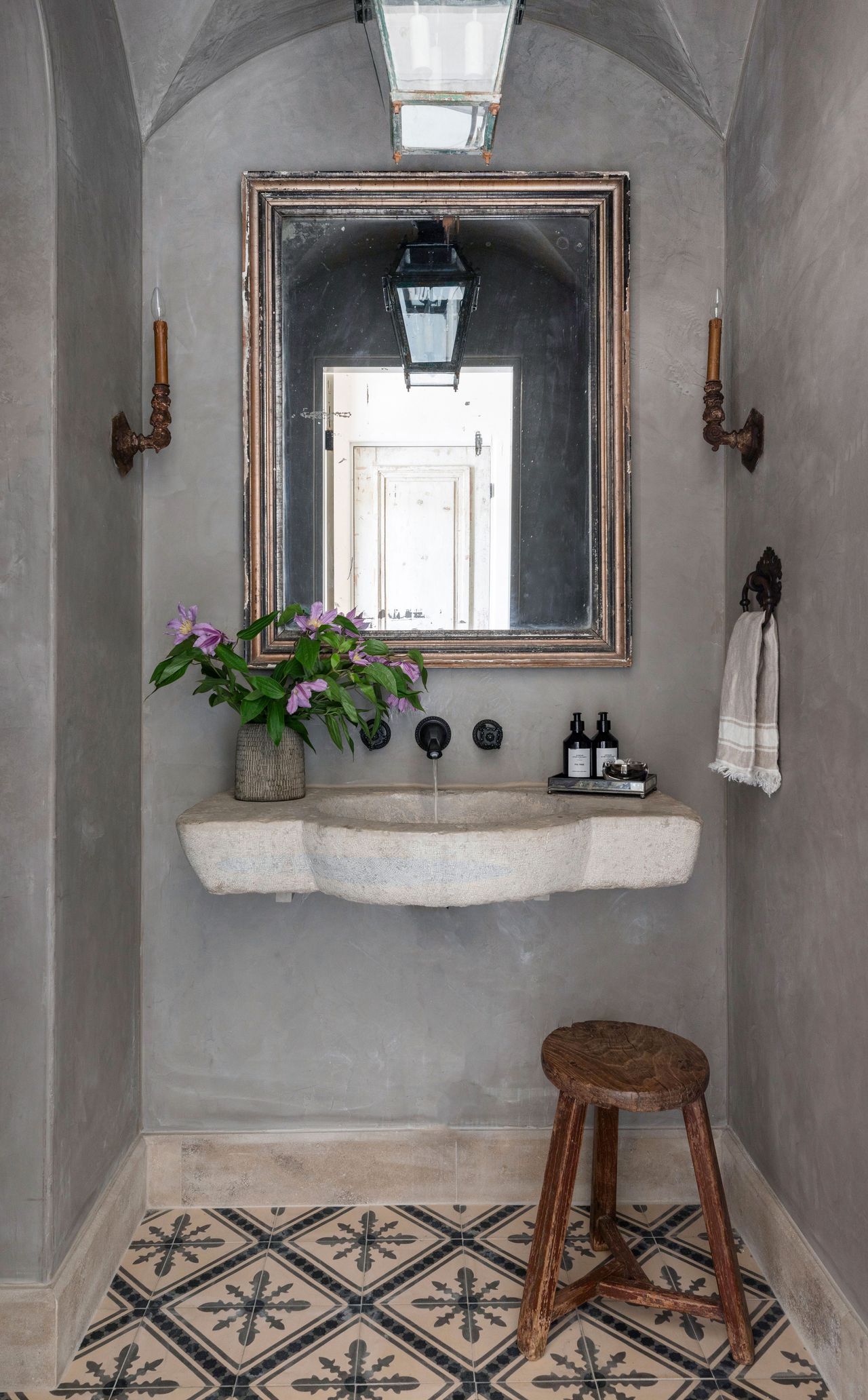 This powder room may be small, but it's perfectly shaped and beautifully organized, thanks to Kara's dreamy scheme. 'The old sink, lantern and cement tiles of Domingo Castle mix with a mirror and wall sconces of Skelton Culver – all against a backdrop of plaster walls painted with Sherwin-Williams Mega greige', Kara said.
Location by the lake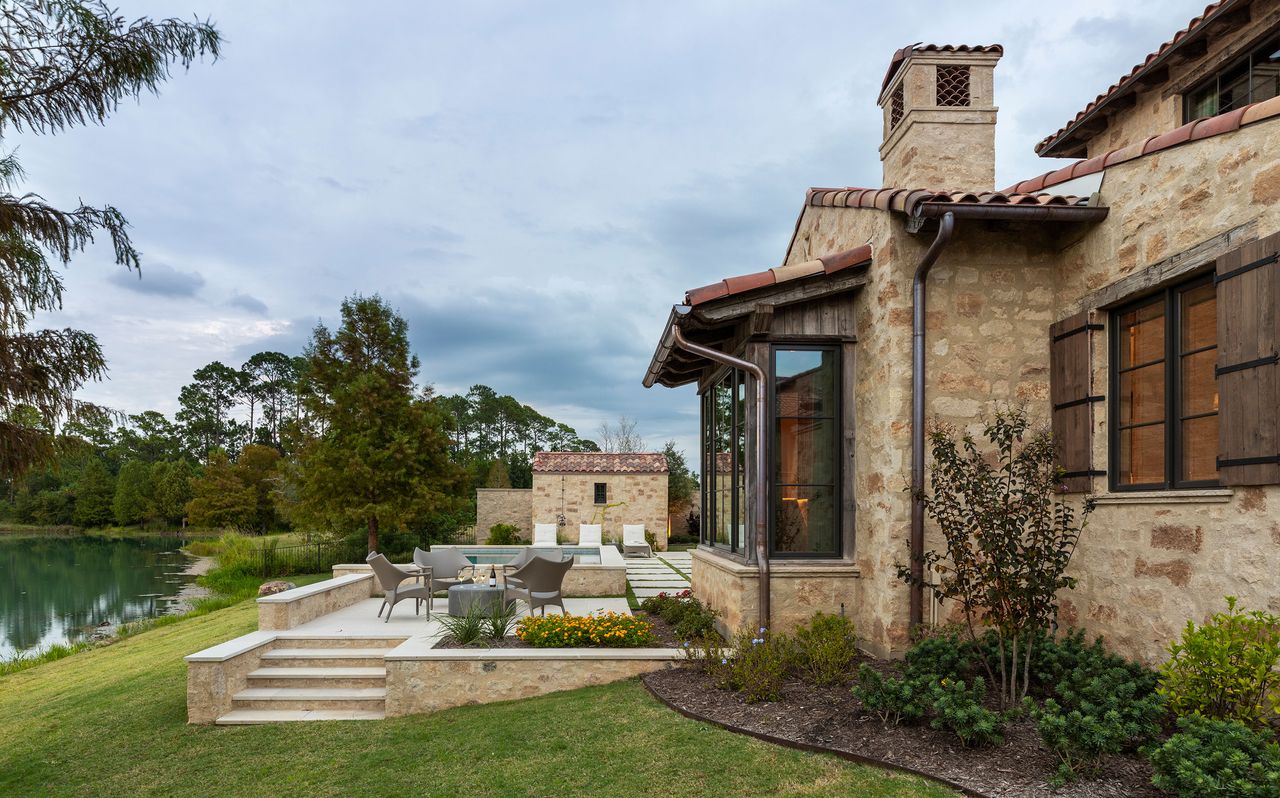 This private patio and pool deck is located close to the waterfront for the whole family to enjoy. The multiple gathering spaces and the spacious layout of the terrace integrate this space perfectly into its landscape.
The swimming pool itself is located almost on the seafront and offers the illusion that it is one with the water. All the outdoor furniture here is from Janus and Co.
When asked if she was happy with how her designs worked for this special lakeside retreat, designer Kara Childress said, "I'm thrilled with the end result, as are our clients! We love knowing how many memories will be made in this home for years to come and that it will serve as an idyllic place to retreat to when our guests move on to living there full time.