For those who are unfamiliar, there are two parts to the design fair; there's Salone del Mobile and then there's Milan Design Week. Salone is the week-long furniture fair held in a huge exhibition center in Rho, on the outskirts of Milan. In this year's landmark edition, the Salone filled 210,000 m2 with 2,175 exhibitors and 262,608 attendees in total from 173 countries. The name suggests it's furniture, but its scope is much bigger than that – you'll find bathrooms, kitchens, cabinets, tiles, fabrics, rugs, lighting and everything in between. .
But if you want the full experience (and you do), you have to head to Milan to see the special installations and events the brands are putting on in and around their urban showrooms. All of these events are part of Milan Design Week or "fuorisalone" as the Italians call it, literally translating to "outside the fair".
A consistent theme of sustainability and social responsibility ran through the week's events, going far beyond a call to action on climate change. This has reinforced the need for resilience in design as we face the challenges of global lockdowns, supply chain disruptions and political instability – issues that have reverberated around the world.
We attended a panel discussion hosted by Gaggenau in partnership with Dezeen at the iconic Villa Necchi in Milan on the topic of longevity and sustainability. Being increasingly aware of our impact on the planet and keen to minimize our footprint, we found this talk by Francesca Portesine (Director of Interiors, Bjarke Ingels Group), Søren Rose (founder, Soren Rose Studio) and Mike Holland (Head of Industrial Design, Foster + Partners) which makes you think. They advocated ways in which we as design professionals can steer the industry towards holistic sustainable practices.
Our role as designers, they argued, is to gently guide our customers to best practices and, more importantly, to understand the overall impact of decisions. Understanding life cycles and end-to-end manufacturing processes is the only way to measure the potential impact of material and product selections. With over 250 different types of "green" certifications globally within the industry, it has become an overwhelming and confusing process to confidently navigate a sustainable design approach. True advocacy for sustainability has inadvertently resulted in "greenwashing" creating a barrier in the design process. The panelist called for standardization of green credentials and transparency to drive sustainable design.
On a lighter note, here are some of the highlights from this year's fair:
The first standing – Kohler really caused a stir this year. Not only did they set up an incredible stand at the Salone – one of the few to be fully sealed – but they also commissioned artist Daniel Arsham to create an immersive human-scale artwork, "Divided Layers", at the Palazzo del Senato in Milan inspired by The Rock.01: a beautiful limited edition washbasin (also by Arsham) made with Kohler's 3D printing technology. New technology means more organic shapes and textures are possible, there is no waste and the basin uses less material as the printer can layer rows of internal structure instead of relying on solid material . If it can be done with vitreous china to make a sink, imagine the possibilities elsewhere.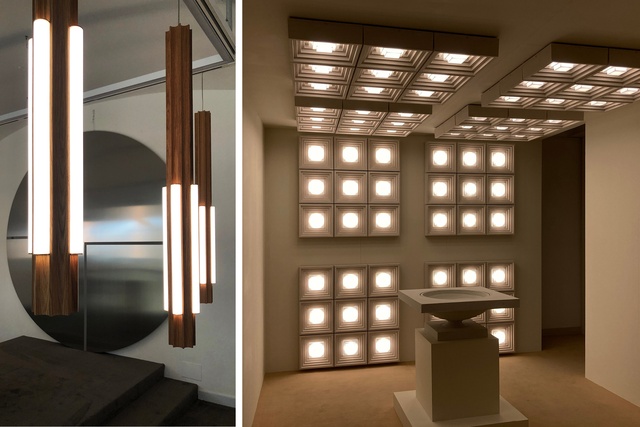 Another star was the British designer Lee Broom which unveiled its first collection in four years. Aptly named "Divine Inspiration", Broom drew inspiration from shapes and forms found in places of worship. Our favorite was 'Pantheum' – a surface mounted fixture reminiscent of the coffered domed ceiling of the Pantheon in Rome. On its own a strong geometric ceiling or wall fitting, but as a collection of multiples it creates a powerful and ethereal element. The exhibition took up an entire building, chosen for its ecclesiastical and brutalist features, and unfolded in a series of rooms, staged to celebrate each unique design. The final exhibition, in a crypt-like space in the basement, unveiled the collection's most delicate designs – the four variants of "Requiem". These designs appear to be made of flowing fabric, but are actually handcrafted by Lee Broom himself from plaster draped with glowing orbs, bars and rings – only 15 of each will be made.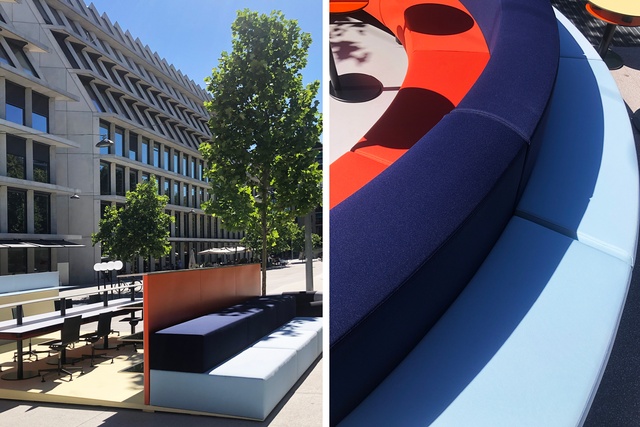 Workplace design showed a much larger presence than in previous years. UniFor in partnership with AMO launched a new collection of highly flexible furniture solutions for the modern workplace. The collection is called 'Principles' and aims to offer a modular solution, with each element designed in four different sizes, offering the possibility to mix and match the products to create an infinite number of configurations. In Milan, the majority of their display was positioned outdoors in daylight – a stunning way to showcase the unique colors on offer. Convenience features included integrated power outlets, extra-durable laminates and micro-perforated sheet metal for improved acoustic performance.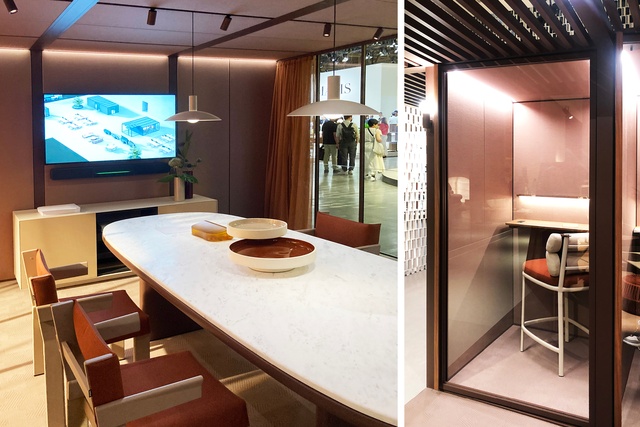 Kettal showcased a softer residential approach to workplace design by displaying its 2021 "Pavilion O" collection. A development from their outdoor cabin structures, they have created a modular solution that provides flexibility allowing office spaces to be reconfigured. The collection includes small to medium meeting rooms, large meeting rooms, kitchens, phone booths, open collaboration spaces and lounges. Their booth featured a multifunctional office space using their Pavilion O structures, various furniture and a new release from Kettal Studio, "Tectum Garden" – a hydroponic plant garden for use in indoor spaces.
Finally, we all love to hear about trends. Here are our first four: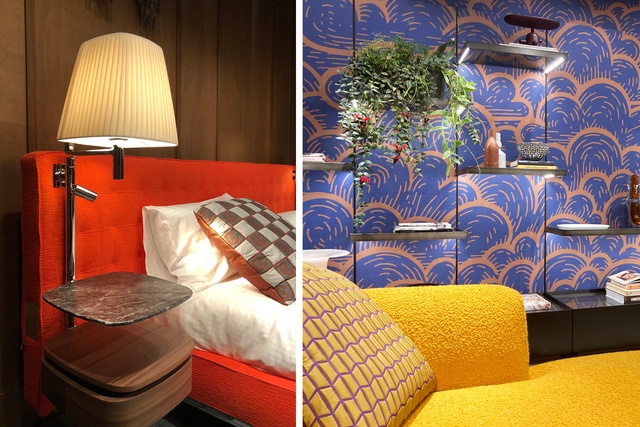 1. The revival of furniture from the 1980s: The designs are reminiscent of the 1980s, not so much in their pattern (flowers and paisley still tightly enclosed) but in their texture, shape and detail. Dense corduroy and bouclé fabrics paired with curved upholstery elements and other more boxy shapes with polished chrome tubing. The Utopia collections by Tacchini and Tucroma by 4 Mariani are the embodiment of this.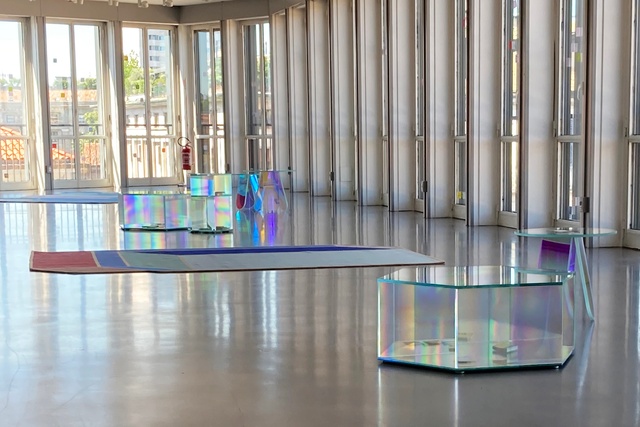 2. Glass: We have witnessed so much creativity using colored and textured glass. Glas Italia had multicolored glass screens and Mondrian-inspired coffee cubes. In partnership with Patricia Urquiola, they presented a series of dichroic tables, shelves and mirrors. Nature Design showed off its detailing prowess with its Waterfall and Ill Murano table ranges, assembled in beautiful configurations with rock-cast glass.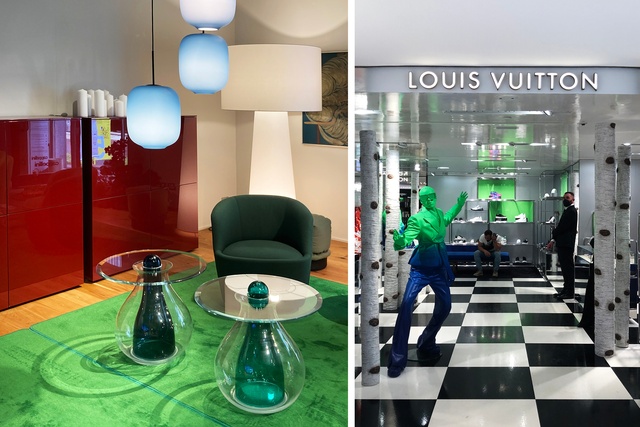 3. Bold use of color: Solid color schemes were found throughout, using lots of saturated colors. Popular and/or resurrected tones included:
Burnt orange, already a popular choice and from what we've seen, is here to stay.
Classic blue joined the party (a bit of a belated celebration of its Pantone Color of the Year award in 2020).
Burgundy tones appeared in many displays of luxury goods. We have also noticed a resurgence of red marbles like Rosso Levanto and Red Serpentine.
Finally, we saw a lot of greenery. Only the most common shade of green – let's call it an "optimistic green" was brighter than the grass, almost a lime, but with more yellow mixed in.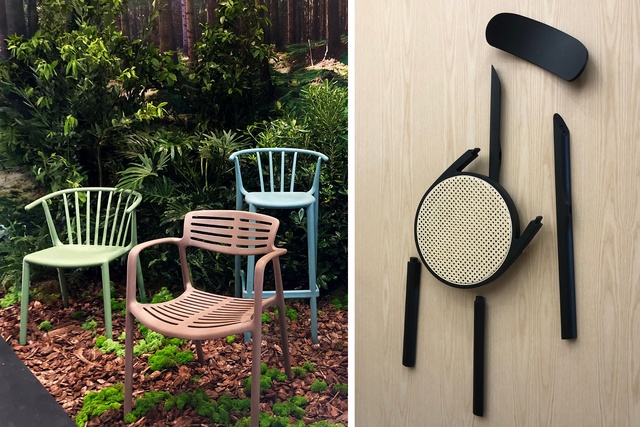 4. Reduce, recycle and rethink: Again touching on sustainability, stories of circular design were showcased by several product manufacturers, from fully recycled outdoor seating to flat-packed furniture, to an in-depth examination of internal structures and material composition.
It was a privilege to be in Milan for Design Week and to experience this creativity first hand. The streets were alive, people were everywhere and a bubbling energy reminded us of the days before the pandemic. It was hot and exhausting, but worth the sore feet and blisters to enjoy every moment. We came away inspired, not only by the design we had seen, but also with a sense of positivity: creative thinking and passion will continue to solve our global design challenges.
Audrey de Filippis leads the Hotel, Entertainment and Experiences team at Ignite Architects, Auckland. Sacha Ghisleni is also an interior designer in Ignite, Auckland, specializing in hospitality and residential interior designs.