By Amy Burger Special for the Post-Dispatch

Kristin Whittle Parke's lifelong dream was to take commercial space and make it her home. In the 1980s, she was inspired by films like "Big" and "Flashdance" which featured large, open, loft-style homes and knew she would end up living in one. In her teens and early twenties, she began collecting brightly colored Fiestaware dishes and vintage pink appliances.
"I always knew that one day I would have a big space to display them," she says. "I imagined it."
Parke's vision finally came true in 2019 when she moved into a remodeled brick commercial building in Overland that she painstakingly transformed into an adult play area where each space has a unique vibe that comes straight out of its imagination. It was, however, an extremely long and often painful road to get there.
The journey began in 2004 when she was living in Creve Coeur with her then husband. She happened to be driving through Overland, a suburb in northern St. Louis County, when she spotted an old brick apartment building with a for sale sign out front. It was immediately struck by its 10 huge sun arch windows.
Although she explained her dream to her husband, he simply disagreed and told her he didn't want to be part of it – if she did, she was on her own.
"I called the number and got it for a robbery," Parke recalled. "It was a mess. I brought in a wrecking crew and took it down to the brick.
Built in 1924 for Southwestern Bell Telephone Co., the building had been used for several different business purposes over the years, including a stint as a technical school for the Ritenour School District in the 1970s. bought, the building was divided into 18 offices with drop ceilings that covered half of the arched windows, and it was full of asbestos. She had the walls and suspended ceilings knocked down and asbestos removed. The debris filled 12 30-foot dumpsters.
Then it sat empty for 13 years. Unsure of how to move forward, Parke paused, though she continued to cling to the building and her dream.
"It was like, how do you eat an elephant?" she says.
In 2012, the rain was starting to pour through the holes in the roof. A friend told her that if she didn't replace him, she would lose the building. So she replaced the entire roof, a huge expense and undertaking. Little by little, she would make improvements. The next major step was to replace all the windows and their casements at the front of the building, carefully recreating those radiating arches she had initially fallen in love with.
Then, in 2017, she says she had an epiphany. "I was unhappy in my marriage and wanted to follow my dream." She divorced her husband, hired a contractor, and gave him her savings to build the space – now just an empty shell – in the house she always envisioned.
Unfortunately, she encountered another obstacle when the contractor ended up leaving the project unfinished, with his money in hand. That's when, she says, it became a labor of love and perhaps divine intervention.
"By the grace of God, it came to fruition. People and artists started coming out of the woodwork to help me – they did stuff for me for free when they heard my story. Everything fell into place," Parke says.
Although she had help executing the plans, the vision is entirely hers and each space is carefully designed with a specific purpose and idea.
"I was inspired by Cheshire when it was a boutique hotel, where each room had a different theme, so I tried to recreate that," she says. "I want everything to be fun and interactive. I love decorating."
It starts in the enclosed lobby, which is draped from the ceiling in wide black-and-white striped fabric to resemble a cabin. With the image in mind, she went to Anatol's Fabric Outlet in Brentwood and explained her goal. They recommended seamstress Nancy McClary to make it a reality. Honoring his love of portholes, Parke found a salvaged door with three portholes in Illinois and hung it as the front door.
Stepping into the open living space feels like stepping into one of those lofts from those 1980s movies Parke loved to watch. Different vignettes of various pieces of furniture and artwork divide the room into zones with a patchwork of oriental rugs found at estate sales and auction houses connecting them. A long wooden dining table, surrounded by vintage chairs, is the heart of the house.
"Part of my vision was always that I would have a big harvest table, and I could imagine people sitting around it," she says. "It seats 12 people and I've hosted hundreds of dinner parties around this table."
The table sits just outside the open kitchen, where it now proudly displays all of its Fiestaware and vintage collectibles on shelves that line the original brick wall. The kitchen is designed around a 1947 baby pink Western Holly stove with portholes in the doors. Parke got a vintage reproduction Big Chill fridge hood in matching pink. Close friend from high school, Guido Gedamke of CastleTech Inc., fabricated custom concrete countertops and a semicircular center island with a copper weathered finish to complete the eclectic space.
The real fun, however, lies behind each of the closed doors along the perimeter of the main building. An all-white bedroom features rounded doors and windows and a circular cutout "star dome" in the ceiling with fiber optic lights. Across the bedroom, behind another door is a large bathroom that looks like a Moroccan spa with side-by-side clawfoot tubs, a separate cobalt-blue tiled shower, and a ceiling painted like the night sky by the artist local Jeff May.
At Parke, there is always a project. The house is an ever-evolving work of art, all from the heart and mind of a woman who decided to live her dream.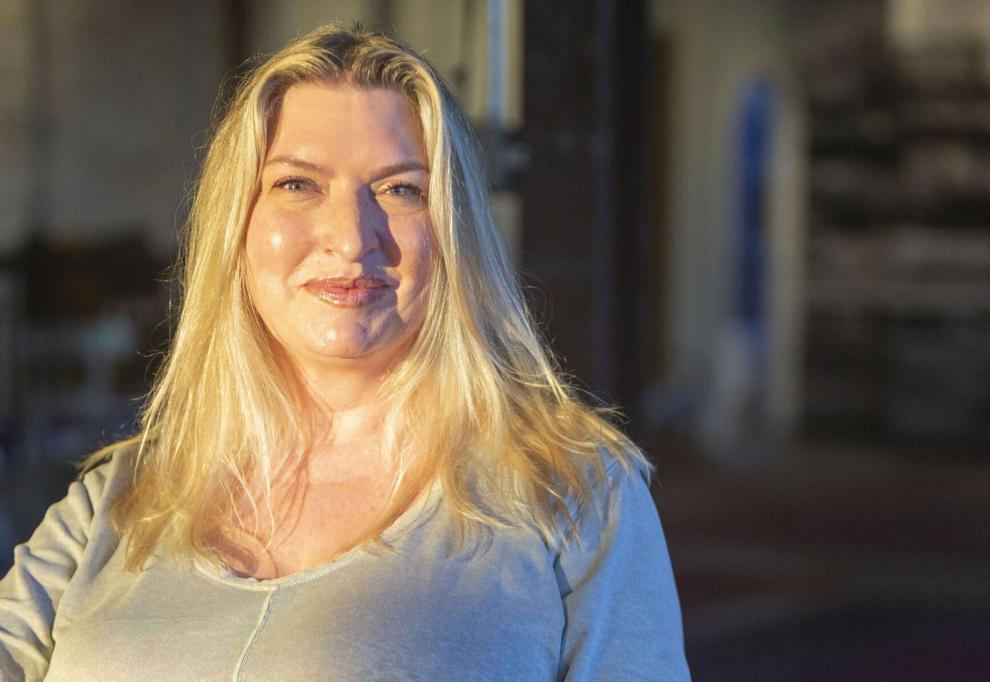 Occupation • Contract Employment Discrimination Mediator for the Equal Employment Opportunity Commission